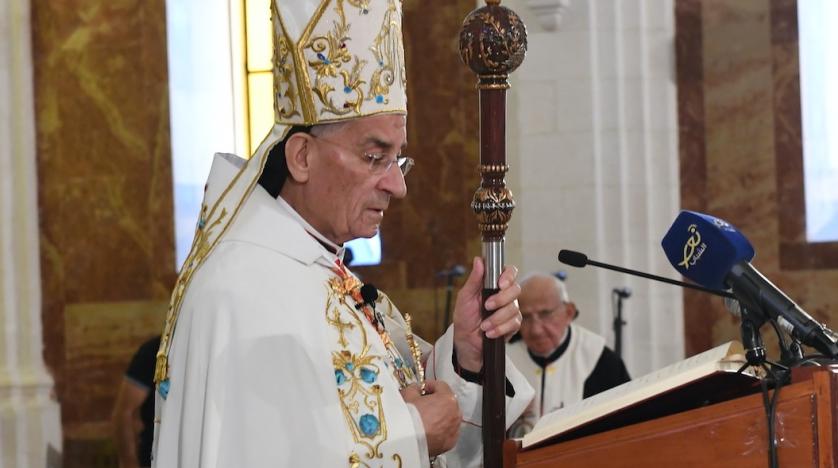 by indcatholicnews.com -- On his first official visit to the UK, His Beatitude Cardinal Mar Beshara Boutros Al-Rahi, Patriarch of Antioch, and head of the Maronite Church, has taken part in a series of meetings with church leaders, politicians and Lebanese delegations yesterday. He was welcomed to Lambeth Palace by Archbishop of Canterbury. The Archbishop said: "We prayed together for Christians in the Middle East, especially Lebanon - a place close to my heart." The Patriarch then went on to the Palace of Westminster, where he took part in a number of official meetings, most notably with Lord Tariq Ahmad, Minister of State for the Middle East; Sarah Mackintosh, Deputy National Security Adviser, who has responsibility for the Middle East; and with Parliamentarians, organised by the All Party Parliamentary Group to the Holy See.
The Patriarch was accompanied by Archbishop Paul Boulos El-Sayah; His Excellency Rami Mortada, Ambassador of Lebanon to the United Kingdom; and Mr Maran Francis, Counsellor at the Lebanese Embassy. In recent days, His Beatitude has also met with representatives of various Lebanese parties at the Maronite Parish in London, for which meeting he was accompanied by Abbot Hadi Mahfouz, General Superior of the Lebanese Maronite Order, and Father Fadi Kmeid, Maronite parish priest in London.
In this meeting, His Beatitude met delegations representing the Marada Movement, the Free Patriotic Party, the Kataeb Party, the Lebanese Forces Party and the Liberal Movement. In all his meetings this week, the Patriarch has stressed the need to preserve the diversity and pluralism of Lebanon which distinguish it from other countries in the region and which make its society such a unique model of Christian-Islamic coexistence and dialogue between cultures and religions.