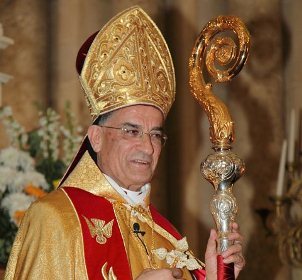 By Najia Houssari - arabnews.com -- BEIRUT: A spiritual retreat on Wednesday was attended by Lebanon's Maronite Patriarch Bechara Al-Rahi and Christian deputies in a bid to resolve a six-month stalemate over the election of a new president for the crisis-hit country. The gathering in Harissa came as separate meetings between Qatar's Minister of State in the Ministry of Foreign Affairs Mohammed bin Abdulaziz bin Saleh Al-Khulaifi and Lebanese officials and political leaders failed to address the ongoing political vacuum. A total of 53 deputies from the Free Patriotic Movement, Lebanese Forces, Kataeb Party, and Marada Movement took part in the retreat.
Eleven deputies were absent, including FPM-backed deputy parliament speaker, Elias Bou Saab, and reformist deputies who favor political dialogue to break the deadlock. MPs Melhem Khalaf and Najat Aoun Saliba were also absent, as they entered the 77th day of their parliament protest over the issue, while MP Paula Yacoubian said she would "not participate in any activity that is based on sectarian division." In a statement delivered to the deputies, Al-Rahi said: "The policy adopted by the ruling power erroneously is incapable of taking care of others. It grinds the poor, takes advantage of the land, faces challenges, and doesn't know how to hold a dialogue. "What progress did you allow the people to make? What positive forces did you liberate? What did you do to elect a president?"
Hezbollah and the Amal Movement have chosen to back Suleiman Frangieh for the presidency in a move rejected by Christian MPs. The head of the Progressive Socialist Party, Walid Jumblatt, wants to elect a centrist president. Frangieh is a prominent Christian figure, backed by Hezbollah and its allies that consider the Lebanese Forces and opposition nominated MP Michel Mouawad to be a "defiant candidate." For 11 parliamentary sessions, Hezbollah's deputies cast blank votes and withdrew from the second rounds of voting, leading to a loss of quorum. Neither candidates will be able to become president, as both political camps are incapable of securing the 65 votes needed to win in a parliament comprising 128 deputies. Meanwhile, Al-Khulaifi reiterated Qatar's commitment to helping Lebanon elect a president and urged officials to implement the reforms required by the international community to kickstart an economic recovery process.
Separately, the US Department of the Treasury's Office of Foreign Assets Control has imposed sanctions on Lebanese brothers Raymond and Teddy Rahme and their three companies, including ZR Energy. In a statement, the department said: "The Rahme brothers used their wealth, power, and influence to engage in corrupt practices that contribute to the breakdown of the rule of law in Lebanon."
The siblings have close ties with many Christian political figures, including FPM head Gebran Bassil, leader of the Lebanese Forces Samir Geagea, and Frangieh. During a press conference in 2020, Frangieh said he was not "ashamed" about his close ties with Raymond Rahme which dated back to the 1980s. Following news of the American sanctions, social media platforms were flooded with comments and photos relating to the brothers. In 2020, the US Treasury imposed sanctions on Bassil.