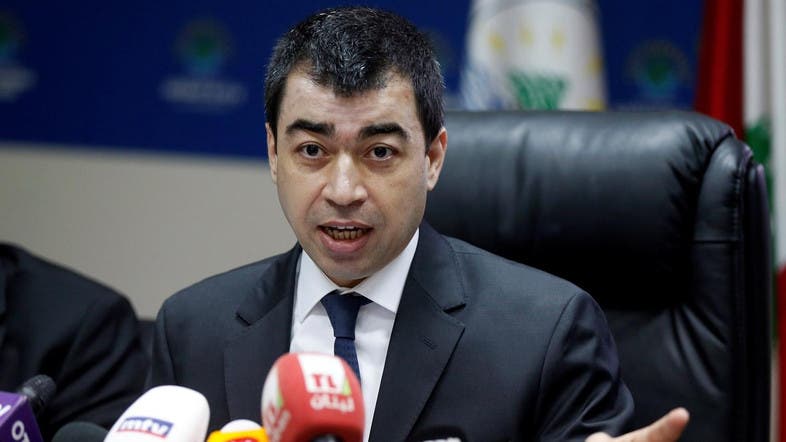 Lebanon's Energy and Water Minister Cesar Abou Khalil speaks during a news conference. (Reuters)
by Reuters. Lebanese authorities said on Tuesday they will press ahead with the country's first oil and gas licensing round regardless of uncertainty over a twice-postponed general election. "I am sure and certain that all the political parties are determined and are committed to make this licensing round succeed," Minister of Energy and Water Cesar Abou Khalil told Reuters. "We have a government that is fully functional and homogenous ... We are pretty sure that the agenda and roadmap for the licensing round will be respected."
Lebanon's tender process for offshore exploration and production stalled in 2013 because political deadlock left the country with no president for 2-1/2 years and squabbling between parties prevented the passage of necessary laws. But late last year, a president and prime minister were chosen. A newly formed government restarted the tender process in January by passing two important hydrocarbon decrees and holding a pre-qualification round in April.

Uncertainty reared its head again when President Michel Aoun suspended parliament for a month in mid-April, temporarily blocking plans to extend the assembly's term with no popular vote for a third time since 2013 to try to push for electoral law reforms and to hold a parliamentary election.
But oil and gas will no longer be subject to political deadlock, the chairman of the board of directors of the Lebanese Petroleum Administration, Wissam Chbat, told the third Lebanon International Oil and Gas Summit in Beirut. "We are decoupled from the political track, there has been a lot of consensus from all political parties towards achieving a successful bid round. Everyone is putting his effort towards achieving that," Chbat said.

The delay in development has come at a cost, Chbat told Reuters, as oil and gas prices have fallen significantly and east Mediterranean neighbors such as Egypt, Cyprus and Israel have been developing their sectors. "In 2013 we had better dynamics for the industry, better prices for oil and gas and better conditions," Chbat said. The Lebanese government has estimated with a probability of 50 percent it has 96 trillion cubic feet of natural gas reserves and 865 million barrels of oil offshore, but the true size of the reserves cannot be known until exploration begins. "There is much more than the local market needs and a big portion of it would be for export," Chbat said. Chbat said 60 targets had been identified as potential reservoirs.
Lebanon could pass a taxation law needed for the hydrocarbon sector this month, Chbat said.
Last Update: Tuesday, 9 May 2017 KSA 19:09 - GMT 16:09