Cheikh Khalil el Khazen  was aboard the Ethiopian Airline. Our Thoughts and Prayers are with you Khalil.
Cheikh Khalil el Khazen
Cheikh Khalil Nami el Khazen, 43, a board member of the Lebanese television station MTV was among the passengers of the crashed Ethiopian Airlines plane Wednesday Jan 25..  Khazen held a degree in law from Sagesse University in Beirut, and was the director of governmental and parliamentary affairs at the Casino du Liban. Khazen was heading to Ethiopia to help one of his ill relatives and his wife was supposed to travel with him but she cancelled her flight at the last minute because her visa expired. He was born in Ghosta in Mount Lebanon and was the father of two children. – The Daily Star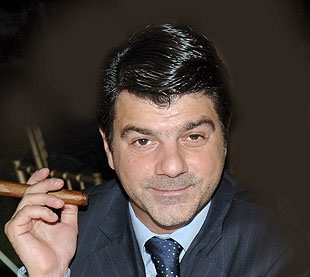 Parmi les passagers du vol 409 de la compagnie Ethiopian Airlines se trouvait cheikh Khalil Nami Khazen, membre du conseil d'administration de la chaîne de télévision MTV et l'un des piliers de la chaîne. Contacté au téléphone par L'Orient-Le Jour, son ami de toujours, Michel Gabriel Murr, a du mal à  trouver les mots. Les deux hommes sont amis depuis l'enfance. « Nous avons tout vécu ensemble, le meilleur comme le pire », souligne-t-il. Et puis, surtout, comme le précise si bien M. Murr, « on ne choisit pas sa famille, mais on choisit ses amis. Khalil, c'est mon meilleur ami depuis 30 ans ».
Il se souvient ainsi « du premier voyage que nous avons fait ensemble en Italie pour aller acheter le premier émetteur de la MTV » parce que, note-t-il, « sans Khalil, il n'y aurait pas eu de MTV ». Et puis il y a aussi l'homme « tellement serviable » que lorsqu'il a su que son cousin avait eu un problème de santé en Éthiopie, il a décidé d'y aller. « Je n'ai même pas eu le temps de réaliser qu'il allait en Éthiopie », souligne M. Murr avec beaucoup d'émotion. « J'étais son témoin de mariage », ajoute-t-il.
L'un des cousins de Khalil Khazen, Ghazi Khazen, a également accepté de témoigner. Il précise que le cousin de Khalil « travaille en Ethiopie, il a une quarantaine d'années ». Les deux hommes sont très amis et c'est tout naturellement que Khalil a pris l'avion pour aller lui rendre visite « parce qu'il avait eu un problème cardiaque et qu'après une batterie d'examens, il a dû subir une intervention qui n'a pas réussi ». « Khalil s'est insurgé contre le fait que son cousin soit seul là -bas. La femme de son cousin était au Liban avec ses enfants afin de régulariser sa situation, vu que sa carte de séjour éthiopienne avait expiré. Cette dernière ne voulait pas que Khalil parte seul pour Addis-Abeba et elle lui a demandé de l'attendre. Mais il n'a rien voulu entendre et ils se sont finalement mis d'accord sur le fait qu'elle le suivrait le lendemain, c'est-à -dire hier. Il l'a donc précédée... ».
Cheikh Khalil Nami el Khazen video biography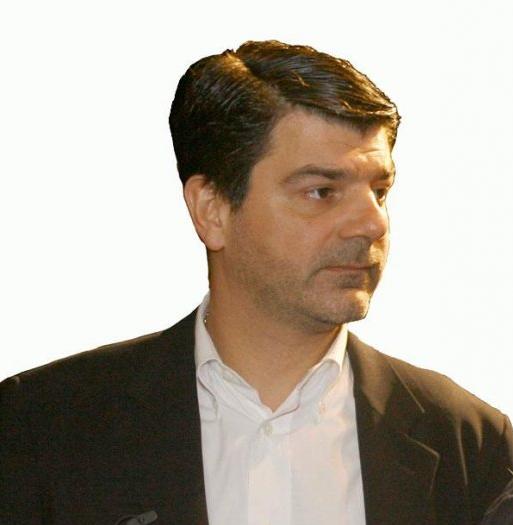 Skaff offers his condolences to MTV and victim's parents;  Former minister Elias Skaff, president of the Popular Bloc, has expressed in a statement his sincere condolences regarding the airliner crash that occurred yesterday morning, saying"Lebanon has been terribly shocked by losing 54 of its citizens".
Skaff has also offered his condolences to victim's relatives, as well as to French Ambassador to Lebanon Denis Pietton and in particular to the MTV channel and the AL Khazen family.
February 9, 2010
BEIRUT (Reuters) - Pilot error caused the crash of an Ethiopian Airlines plane off the coast of Lebanon last month which killed all 90 people on board, a source familiar with the investigation into the accident said Tuesday.
"The investigation team has reached an early conclusion that it was pilot error, based on the information from the black box," the source told Reuters.
An investigation team involving Lebanese, French and Ethiopian officials had headed to France Monday with the flight recorders, commonly known as "black boxes," for analysis.
The Boeing 737-800 plane crashed minutes after taking off from Beirut in stormy weather on January 25, plunging in a ball of fire into the sea.
The pilot had failed to respond to the control tower's request to change direction even though he acknowledged their demands. The plane made a sharp turn before disappearing off the radar, the Lebanese transport minister said at the time.
The eight-year-old plane, carrying mostly Lebanese and Ethiopian passengers, last had a maintenance check on December 25 and no technical problems had been found. It was bound for the Ethiopian capital Addis Ababa.
Since retrieving the flight recorders from the Mediterranean Sunday, Lebanese and international search teams have also located parts of the plane's fuselage, where most of the victims' bodies are believed trapped.
The bodies of at least 23 victims have been recovered so far.
(Reporting by Nadim Ladki; writing by Yara Bayoumy; Editing by Charles Dick)
BEIRUT (Reuters) – Many of the 90 people aboard an Ethiopian Airlines plane are still missing after it plunged into the Mediterranean in a ball of fire, minutes after taking off from Beirut in a raging thunderstorm on Monday.
More than 16 hours after the crash and with night falling, authorities downplayed hopes of finding survivors and search efforts focused on recovering the remains of passengers still strapped to their seats and the black box flight recorders.
Flight ET409, a Boeing 737-800, heading for Addis Ababa, disappeared off the radar five minutes after taking off at 2:37 a.m. (7:37 p.m. ET).
The Lebanese army said the plane had broken up in the air before plummeting into rough seas. One witness described the impact as a "flash that lit up the whole sea."
Lebanese President Michel Suleiman said he did not think the plane had been brought down deliberately, emphasizing "a sabotage attack is unlikely."
Defense Minister Elias el-Murr said that weather "in principle" was to blame for the crash. He later told local media there was information indicating "it was a pilot error" but did not provide further details.
Ethiopian Airlines CEO Girma Wake said he had spoken with Lebanese authorities and there was no word of survivors. Eighty-three passengers and seven crew were on the flight.
Twenty-four bodies, including those of two toddlers, had been recovered. At least six of the bodies recovered were of Ethiopians, officials said.
Only one of the 14 bodies being examined at a Beirut hospital, where weeping relatives gathered, was identifiable. The rest would require DNA testing to confirm identities, Health Minister Mohammad Khalifeh said.
HOPES FADE
Khalifeh said hopes were fading for any survivors. A U.S. Navy ship with advanced equipment arrived in Lebanon to aid in the night search.
Mangled debris, aircraft seats and luggage washed up on the shore south of Beirut near the airport's main runway.
Fifty-four of those on board were Lebanese, 22 were Ethiopian, two were British and there also were Canadian, Russian, French, Iraqi, Syrian, and Turkish nationals.
Marla Pietton, wife of the French ambassador to Lebanon Denis Pietton, was on the plane, the embassy said. Most of the Lebanese passengers were Shi'ites from southern Lebanon who have business interests in Africa.
The Lebanese government declared a day of mourning. Prime Minister Saad al-Hariri visited the airport to meet distraught relatives, some of whom were angry that the plane was allowed to take off in bad weather.
"They should have delayed the flight for an hour or two to protect the passengers. There had been strong lightning bolts and we hear that lightning strikes at planes, especially during take-offs," a relative of one of the passengers said.
Information Minister Tareq Mitri said there was no reason not to give the plane the permission to take off.
"Other planes landed and took off after and before it. There was no reason why the airport authorities should not have allowed it to take off," he told reporters.
INTERNATIONAL HELP
Airline CEO Girma said he did not think the crew would have taken off in dangerous weather conditions.
"There was bad weather. How bad it is, I will not be able to say. But, from what I see, probably it was manageable weather otherwise the crew would not have taken off," he told reporters in the Ethiopian capital Addis Ababa.
A team of investigators from Ethiopia, including Ethiopian Airlines officials, arrived in Beirut. Boeing said it was coordinating with the U.S. National Transportation Safety Board to assist Lebanese authorities in the inquiry.
Lebanese army, U.N. peacekeepers in Lebanon, Cypriot police and the British military stationed in Cyprus provided helicopters, ships and divers to aid search-and-rescue efforts in an area off Na'ameh, 10 km (six miles) south of the capital.
State-owned Ethiopian Airlines has positioned itself as a major player in international air traffic in Africa and has recently expanded its Asian network.
Girma said the plane, built in 2002, last underwent a maintenance check on December 25 and no technical problems were found. The plane had been leased from a division of U.S. financing company CIT Group.
Last Friday the airline announced an order for 10 of Boeing 737-800s for $767 million.
Ethiopian Airlines has regular flights to Lebanon, catering for business clients and the thousands of Ethiopians who work there as domestic helpers. Some passengers had been en route to Angola and other African countries.
The last incident involving Ethiopian Airlines was in November 1996 when 125 of the 175 passengers and crew died after a hijacked Boeing 767 crashed off the Comoros Islands.
(Additional reporting by Mariam Karouny and Laila Bassam in Beirut, Barry Malone in Addis Ababa, Tim Hepher in Paris and Michele Kambas in Nicosia; Writing by Yara Bayoumy; Editing by Michael Roddy)
Jan. 25 (Bloomberg) -- An Ethiopian Airlines Boeing Co. 737 with 90 people on board crashed into the Mediterranean Sea off Beirut after departing the Lebanese capital in stormy weather early this morning. There were no reports of survivors.
Twenty-one bodies have been found, with the search focused 8 kilometers (5 miles) offshore. The jetliner's voice and data recorders are likely to be recovered and should reveal what brought it down, Elias Murr, Lebanon's defense minister said.
"In principle the weather factor is the cause of the crash," Murr said at a press conference in Beirut, which has been lashed by heavy rain and high winds for much of the past two days. "There is no evidence of foul play."
Flight ET409 left the city's Rafik Hariri International Airport for Addis Ababa, the Ethiopian capital, at 2:35 a.m. and lost contact with air traffic control shortly afterward. The crash is the fourth fatal accident involving the new generation of Boeing 737s introduced 12 years ago and Ethiopian Airlines' first since 1988, excluding a fatal hijacking in 1996, according to data compiled by London-based aviation consultant Ascend.
Water at the crash site is between 50 meters and 100 meters (164-328 feet) deep, Murr said. Local military personnel are being assisted by a U.S. ship, a helicopter from Britain's Royal Air Force and forces from France and the United Nations.
"Weather conditions are very harsh," Lebanese army Brigadier Saleh Haj Suleiman said in a telephone interview, adding that no survivors have so far been found.
No Terror Link
Flames were seen coming from the aircraft before the crash near Na'ameh town, south of Beirut, according to the state-run Lebanese National News Agency. Terrorism is unlikely to have been a factor, Lebanese President Michel Suleiman said in Beirut. Saad Hariri, the country's prime minister, declared Monday a day of mourning for the victims of the event.
"It was manageable weather, otherwise the crew wouldn't have taken off," Ethiopian Airlines Chief Executive Officer Girma Wake told reporters at a briefing in Addis Ababa. The plane's passengers included 51 Lebanese and 23 Ethiopians, the carrier said on its Web site. The eight crew were all Ethiopian.
The crashed 737-800 was built in 2002 and operated with Irish discount carrier Ryanair Holdings Plc until April last year, when it went to CIT Group Inc.'s aerospace unit before being leased to Ethiopian Airlines in September, according to Ascend. It was powered by engines from the CFM International joint venture of General Electric Co. and France's Safran SA.
Boeing is working with the U.S. National Transportation Safety Board to assist Lebanese authorities with the probe, spokeswoman Sandy Angers said in an e-mailed reply to questions. Addis Ababa-based Ethiopian Airlines, which is state owned, said it had sent investigators to the scene of the crash.
Safety Records
Paul Hayes, director of safety at Ascend, said both the airline and model of plane involved have sound safety records.
"Ethiopian Airlines is a small carrier that's generally seen as having a good reputation for safety, while the current generation of Boeing 737s has been in use in large numbers for 10 years and has an excellent record," he said by telephone.
The plane was also carrying two Britons and one person each from Turkey, France, Russia, Canada, Syria and Iraq, the airline said. The Lebanese National News Agency put the number of Lebanese citizens at 54, saying that some held dual citizenship.
Ambassador's Wife
The wife of the French ambassador to Lebanon was among those on the plane, said Anne-Charlotte Dommartin, a spokeswoman for the French embassy in Beirut. The flight was slightly delayed, having been due to take off at 2:10 a.m.
At Bole International Airport in Addis Ababa, people have been told to wait for further information on possible survivors, said Tedros Abdissa, whose 35-year-old cousin Tegist Shokur was on the flight.
"She was a domestic servant and her employer beat her up so she chose to leave," he said in an interview at the airport.
Ethiopian Airlines operates a fleet of 37 planes, most of them Boeing aircraft, according to its Web site. It also has orders outstanding for planes including 10 787 Dreamliners, 12 Airbus SAS A350s and 5 Boeing 777s, according to the site. The airline and Boeing announced a deal for 10 737s on Jan. 22.
The carrier hasn't suffered a fatal crash since November 1996, when 125 people died during the hijacking of a Boeing 767 en route to Nairobi, according to the Flight Safety Foundation. The plane ditched off the Comoros islands as it ran short of fuel after the hijackers sought to divert it to Australia.
A 737-200 operated by the airline crashed after takeoff in 1988, killing 35 passengers, after the plane flew through a flock of birds which were ingested into its engines, according to Ascend.
To contact the reporter on this story: Massoud A. Derhally in Beirut, Lebanon at This email address is being protected from spambots. You need JavaScript enabled to view it.
Last Updated: January 25, 2010 12:33 EST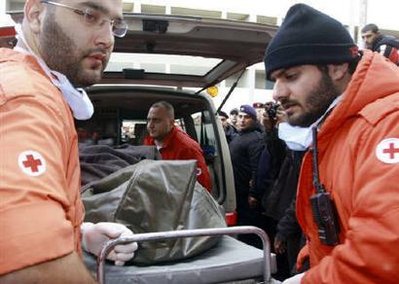 Red Cross rescuers transport the body of one of the victims of a crashed Ethiopian Airlines plane from an ambulance to a hospital in Beirut January 25, 2010. All 90 people aboard an Ethiopian Airlines plane were feared dead after it plunged into the Mediterranean. REUTERS/Wadih Shlink
Reuters via Yahoo! News - 1 hour, 44 minutes ago
 

Lebanon's Prime Minister Saad al-Hariri (centre L) and Lebanon's Army commander Jean Kahwaji (centre R) arrive at Beirut international airport to take a tour by helicopter over the site the site where an Ethiopian Airlines plane, crashed into the Mediterranean sea on Monday morning, January 25, 2010. All 90 people aboard the Ethiopian Airlines Boeing 737-800 plane were feared dead after it plunged into the Mediterranean, minutes after taking off from Beirut in a thunderstorm on Monday. REUTERS/ Str (LEBANON - Tags: TRANSPORT MILITARY DISASTER POLITICS)

Reuters via Yahoo! News - Jan 25 8:14 AM

 

This photo taken in Beirut on October 23, 2009, shows Marla Pietton, the wife of the French ambassador to Beirut, who was on board the Ethiopian Airlines plane that crashed in the sea near Beirut, Lebanon, Monday, Jan. 25, 2010. An Ethiopian Airlines plane carrying 90 people caught fire and crashed into the sea minutes after taking off from Beirut early Monday, setting off a frantic search as passengers as seats, baby sandals and other debris washed ashore. (AP Photo/Bshara Shayeb)

AP via Yahoo! News - Jan 25 10:12 AM

 

In this photo taken in Beirut on October 23, 2009, French ambassador Denis Pietton, left and his wife Marla Pietton, right. Marla Pietton was on board the Ethiopian Airlines plane that crashed in the sea near Beirut, Lebanon, Monday, Jan. 25, 2010. An Ethiopian Airlines plane carrying 90 people caught fire and crashed into the sea minutes after taking off from Beirut early Monday, setting off a frantic search as passenger as seats, baby sandals and other debris washed ashore. (AP Photo/Bshara Shayeb)

AP via Yahoo! News - Jan 25 10:11 AM

 

Red Cross rescuers transport the body of one of the victims of a crashed Ethiopian Airlines plane from an ambulance to a hospital in Beirut January 25, 2010. TAll 90 people aboard an Ethiopian Airlines plane were feared dead after it plunged into the Mediterranean, minutes after taking off from Beirut in a thunderstorm on Monday. REUTERS/Wadih Shlink (LEBANON - Tags: DISASTER TRANSPORT HEALTH)

Reuters via Yahoo! News - Jan 25 6:08 AM

 

Beirut airport seen in the background as a Lebanese army vessel searches for survivors from the Ethiopian Boeing 737-800 plane that crashed into the sea, south of Beirut, Lebanon, Monday, Jan. 25, 2010. The aircraft, carrying 90 people, caught fire and crashed into the sea minutes after taking off from Beirut early Monday, setting off a frantic search as passenger seats, baby sandals and other debris washed ashore. At least 34 bodies were recovered. (AP Photo)

AP via Yahoo! News - Jan 25 7:25 AM

 

An Ethiopian airplane lands at Beirut airport hours after another Ethiopian Boeing 737-800 crashed into the sea, in Beirut, Lebanon, Monday, Jan. 25, 2010. The aircraft, carrying 90 people, caught fire and crashed into the sea minutes after taking off from Beirut early Monday, setting off a frantic search as passenger seats, baby sandals and other debris washed ashore. At least 34 bodies were recovered. (AP Photo/Ben Curtis)

AP via Yahoo! News - Jan 25 7:55 AM

 

A relative of passengers who were aboard an Ethiopian Airlines plane, which crashed into the Mediterranean sea on Monday morning, is comforted at Beirut international airport January 25, 2010. REUTERS/Sharif Karim

Reuters via Yahoo! News - Jan 25 5:13 AM

 

AP via Yahoo! News - Jan 25 7:49 AM

 

The runway of Beirut airport is seen in the background as a Lebanese army vessel and helicopter search for survivors from the Ethiopian Boeing 737-800 plane that crashed in the sea, south of Beirut, Lebanon, Monday, Jan. 25, 2010. An Ethiopian Airlines plane carrying 90 people caught fire and crashed into the sea minutes after taking off from Beirut early Monday, setting off a frantic search as passenger seats, baby sandals and other debris washed ashore. (AP Photo)

AP via Yahoo! News - Jan 25 7:02 AM

 

 
Red Cross rescuers transport the body of one of the victims of a crashed Ethiopian Airlines plane from an ambulance to a hospital in Beirut January 25, 2010. REUTERS/Wadih Shlink
Reuters via Yahoo! News - Jan 25 6:00 AM
Reuters via Yahoo! News - Jan 25 4:43 AM
Soldiers from the medical contingent transport the body of a victim of an Ethiopian Airlines plane crash from an ambulance to a hospital in Beirut January 25, 2010. The plane with 90 people on board plunged into the Mediterranean sea minutes after taking off from Beirut in stormy weather on Monday morning. Ethiopian Airlines CEO Girma Wake has said he had no word of any survivors from the crash. REUTERS/ Wadih Shlink (LEBANON - Tags: DISASTER TRANSPORT IMAGES OF THE DAY)
Reuters via Yahoo! News - Jan 25 4:33 AM
 

DISASTER TRANSPORT)

Reuters via Yahoo! News - Jan 25 4:15 AM

 

Minister of Public Works and Transport Ghazi Aridi speaks during a news conference at Beirut international airport January 25, 2010. An Ethiopian Airlines plane with 90 people on board crashed into the Mediterranean sea shortly after taking off from Beirut international airport in the early hours of Monday. REUTERS/Mohamed Azakir (LEBANON - Tags: DISASTER TRANSPORT)

Reuters via Yahoo! News - Jan 24 10:40 PM

 

Relatives of passengers who were aboard an Ethiopian Airlines plane which crashed into the Mediterranean sea, cry near the site at Na'ameh village, south of Beirut, January 25, 2010. REUTERS/Sharif Karim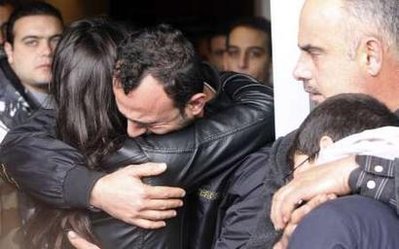 Relatives of passengers who were aboard an Ethiopian Airlines plane which crashed into the Mediterranean sea on Monday morning, comfort each other at Beirut international airport January 25, 2010. The plane with 90 people on board crashed shortly after taking off from Beirut in stormy weather. Ethiopian Airlines CEO Girma Wake said he had no word of any survivors from